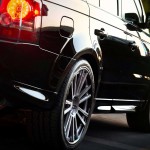 DPF Land Rover in Handforth is just the car service for you. Land Rovers fitted with a diesel particular filter have reduced emissions. They serves to reduce air pollution by gaseous fumes from vehicle exhausts. When inhaled, microscopic soot particles emitted by diesel cars can affect people and cause respiratory issues such as asthma, bronchitis and emphysema.  Reducing the amount of soot particles released into the atmosphere from the vehicles therefore goes a long way into preventing health issues. DPF filters which are in the exhaust system collect particles from exhaust gases in the filter. The fumes that make it to the exhaust pipe are harmless.
For motorists in Handforth, DPF Land Rover is a necessity. For the best quality work with a car dealer that best understands your needs and is praised for the efficiency of their products. The DPF system in cars works best over long distances. The whole process of eliminating the particles from gaseous emissions requires heat to be achieved. High heat is best generated when the engine is running at high speed. Although the collection of particles goes on consistently as gases are produced, short journeys do not give the engine enough time to accumulate heat to combust the particles. This makes it difficult for the regeneration process to take place. Thankfully, the car software allows you to know when the process is slowed allowing you to handle it accordingly.
For the best DPF Land Rover in Handfourth, Premier Garage Services is the garage you need. Contact us today for more information regarding your Land rover DPF. We are a company that prides itself in high quality service, repair and maintenance of vehicles. With over 25 years experience in our trade, you are assured of service that is worth your money. All servicing is done in accordance with the manufacturer manual ensuring your vehicle warranty remains valid. Our services include servicing, repair of car batteries, gearbox and suspension among others, wheel alignment tyres and balancing. Speak to our skilled team for any queries you may have or to get a quote made for you at any time.