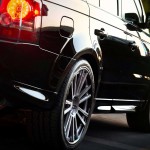 If your engine management light Range Rover in Cheadle Hulme is flickering, it is sensible to bring your vehicle to our garage as soon as possible. The engine management light is an excellent early warning system, designed to alert the driver of any potential problems with the vehicle's engine. It is best not to ignore it. Regardless of whether you think there is nothing wrong with your Range Rover, only a professional technician at a garage can confirm.
Any number of problems could occur. In Cheadle Hulme, engine management light Range Rover will either flicker or remain on if there is a problem with your vehicle. Such problems are of a nature where they should be checked immediately to avoid further, and possibly most costly damage to your vehicle. These could be problems such as an emissions system fault, a blocked diesel particulate filter or differential pressure sensor fault, a loose petrol or diesel filler cap, a mass airflow sensor fault, or an ignition system fault. All of which can be identified and then repaired as necessary. Without an early warning system, you could drive your Range Rover while it is not working at its best and cause substantial damage to the vehicle. The worst case would be the engine seizing, leaving you without a vehicle.
If the engine management light Range Rover in Cheadle Hulme is flickering, bring your vehicle to our garage right away. We have the latest diagnostic tools and will be able to source the problem in your Range Rover. Our expert technicians are Land Rover trained with over 25 years of experience working on all types of Land rover models.  If you need assistance, or would like more information, please contact Premier Garage Services today. You are also welcome to take advantage of our free collection and delivery service. We take care of our clients, and do what we can to assist. Our customer service is a source of pride for us and we ensure the highest standard of workmanship with the minimum of disruption to our clients.