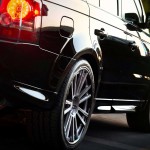 It's a smart move to trust only Land Rover Specialist in Hale, Premier Garage Services. Your Land Rover purchase is an investment. You and your family depend on it to provide safe and dependable transportation. You expect safe holiday trips, getting to work on time, making sure the kids get to school and their activities. Your vehicle plays a role in almost every area of your life. Why wouldn't you want a Land Rover specialist, who knows more about your car than other mechanics, to be in charge of maintenance, service and repairs? The Land Rover specialist can fix your Ford but do you want a Ford mechanic in charge of your Land Rover? We guarantee your satisfaction and as an RAC accredited garage, you know the parts and labour are guaranteed as well.
We at Premier Garage Services believe in-depth knowledge about the Land Rover models over the years serves you better. For car owners in Hale, our Land Rover specialist offers more up to date diagnostic equipment than most Land Rover Dealers. We are able to source the best quality parts for any year or model Land Rover, and the latest in service schedule for each. Our price quotes are another thing you can depend on; no hidden fees or add ons. If your car is still under warranty, bring it to us; we can stamp your service book. You may figure your Land Rover franchise dealership has the same capabilities as we do.
You may be right, but a Land Rover specialist in Hale offers another benefit that's hard to beat; that is price. We are not a franchise, we are independent. Therefore we can save you up to 50% over dealer costs. You get dealer comparable or better service, experienced technicians that are Land Rover specialists and fantastic customer service. Contact Premier Garage Services and schedule your car in for service or repair. You'll find we're friendly and accommodating to your schedule. If you are busy, we will collect your car and deliver it back to you at your work or home.