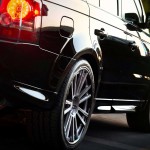 A Land Rover garage in Poynton to choose for your vehicle is Premier Garage Services. With over 25 years of experience in the industry, we have the experience, skill and professionalism to work with any Land Rover model. When you use our garage, it will also cost you less than a main dealership, without affecting your warranty.  We are the obvious choice when you need your car repaired.  Although we are leading experts in the repair and servicing of Land Rovers, we can work on any make or model of car.  This means that you can get the benefit of our expertise as well as our competitive pricing regardless of the type of vehicle you own.
We are an independent garage. In Poynton, a Land Rover garage offers a full range of services. Our prices are competitive too. In fact, they are up to 50% less than what you would pay at the main dealer. We also offer a price promise where the price you are quoted is the price you will pay. If your Land Rover needs a service and you are unable to bring it to our garage yourself, we offer a collection and delivery service. Our garage has the latest diagnostic equipment so we will accurately identify any problems with your vehicle.  We use only quality parts and all our technicians are fully qualified.  When you use our garage,  you can rest assured that the job will be done properly the first time.   We can also replace your tyres and do your wheel balancing and alignment.
If you drive a Land Rover, you will be pleased to know that there is a Land Rover garage in Poynton.  You can have peace of mind knowing that your Land Rover will be expertly serviced and maintained by our experienced technicians. When you need your Land Rover repaired or serviced at a Land Rover garage, contact Premier Garage Services.  If you have any questions that you need answered, give us a call.  We are passionate about what we do and will go out of our way to assist our customers.