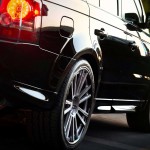 If you are looking for a Land Rover specialist in High Peak, come to us. Land Rovers are unique vehicles that need specialist care. In many cases, the level of expertise necessary to service a Land Rover comes at a premium. Yet, the recent European Union (Block Exemption) legislation enables independent garages to work on Land Rovers without voiding your warranty. To ensure that your vehicle is serviced to the manufacturer's specifications, work with an accredited garage. Accredited independent garages can provide you with main dealer quality services at a fraction of the price. These garages can also offer more technical equipment than franchise dealerships because they have no contractual obligations.
We are an independent garage licensed to offer the full range of Land Rover services. In High Peak, our Land Rover specialists are always available to serve you. With us, you can avoid the long queues and bureaucracy involved with main dealers. We offer a professional yet personalised service to all our customers. Our rates are so reasonable that you can come to us for any job, big or small. All our services are performed to the manufacturer's specifications. We also provide the best quality parts available. We can also approve your service book with a Service Stamp. If you prefer digital services, we can update your online Land Rover Digital Record where necessary.
We are among the longest standing Land Rover specialists in High Peak. Our garage has provided high-quality Land Rover services for more than 25 years. Through our experience, we have become an authority in Land Rover repair, maintenance and service. We know our way around any Land Rover model you bring us. Contact Premier Garage Services if you would like to see our Land Rover specialists. Our garage has RAC accreditation and TSI approval. Also, we provide a range of additional bonuses with our services. These include a 12-month warranty on all parts and a free collection and delivery service for your car.