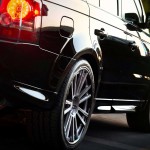 When it comes to choosing a garage for your Discovery 4 servicing in Cheadle, consider Premier Garage Services as we are the specialists when it comes to Land Rovers. Such a vehicle requires professional attention and mechanics who are familiar with the make and model. Moreover, when it comes to Land Rovers, it's always best to leave the vehicle in the hands of people who have been dealing with this make, as their experience will prove more than resourceful and useful in cases where there are repetitive or common issues.
Find more about our independent garage. In Cheadle, Discovery 4 servicing at our independent garage means that you won't void your car's warranty.  The block exemption regulation changes mean that you can choose the independent garage where you want your car serviced and repaired. We offer competitively-priced services and we follow the manufacturer's guidelines and recommendations. Priding ourselves on our excellent customer service, we ensure the highest standards with the minimum disruption to our clients. If your Discovery 4 needs a service but you are unable to make it to the garage, speak to us and we will make the necessary arrangements to collect and deliver your vehicle to an agreed location and time. We are pleased to say that you can pay up to 50 % less than at a main dealer. With over 25 years in the trade, you can rely on our experience, knowledge and professionalism for servicing your Discovery 4. We also feel that we can offer more technical equipment for servicing than several franchise dealerships.
Discovery 4 servicing in Cheadle is expertly completed by our skilled and experienced technicians. For more details about our services, contact Premier Garage Services.  Our team can work on any Land Rover or Range Rover make and model providing value for money as well as quality services. We have access to the best quality parts and the most up to date service schedules. Once a service has been completed, we can approve your service book with a service stamp or update your online Land Rover Digital Service Record. We also offer services for tyres and wheel balancing, wheel alignment, and general repairs. For your peace of mind, speak to us about any work required for your Discovery 4!