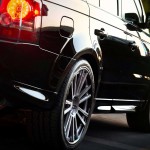 Freelander service in Stockport is only a phone call away. Unfortunately, some service providers in the market often disappoint. A check-engine sign on a Land Rover Freelander is enough to spark fear and worry. The thought of digging into your pocket to fix the complex European engineering of a Land Rover is not pleasing. At Premier Garage Services, we offer one of the best car services in town. We are specialist when it comes to Land Rovers. Our team is well-trained and fully equipped to handle any Land Rover machinery.
European automobile is renowned for its efficiency and sophistication. In Stockport, Freelander service should only be handled by a specialist. The intricacies of Land Rover engineering are only familiar to few. At Premier Garage Services, we have Freelander experts who can handle any problem with your vehicle. We service cars with genuine parts from reliable and renowned suppliers.  All our installations come with a warranty just to put your heart at ease. We handle each car with extreme professionalism to deliver unmatched results. Our team is fully equipped to fix any car problems. We run state of the art garages that are able to handle an array of car servicing procedures. We have modern equipment to equally match the modern engineering of the latest Freelander releases.
Premier Garage Services is one of the leading Freelander service in Stockport. We have been in the car servicing business for a very long time. We have earned a matchless reputation for our excellent European technology services. We guarantee full customer satisfaction. Whether your Freelander has an engine problem or an issue with wheel alignment, our team has you covered. We perform an array of services ranging from diagnosis services to routine check-ups. Our prices are competitive and we offer the best deals in town. Our garages open every day including weekends. You can book an appointment with us any day. Get in touch with us today for the best Freelander car services. Great service is only a call away.