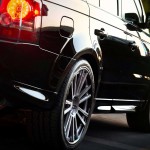 Reputed, reliable Range Rover servicing in Gatley keeps your cherished set of wheels in top gear! At Premier Garage Services, we understand how particular you are about ensuring that your vehicle provides you with comfort, safety and fuel economy. These world famous vehicles are used extensively by adventure enthusiasts and city drivers alike. The brand is more than half a century old and needs specialist care from trained, experienced and knowledgeable technicians. We ensure that your vehicle is handled by experts who understand the nuances and technical aspects of the vehicle. These vehicles are tough, sturdy and capable of taking on huge challenges, but they also need regular care and maintenance. Today's vehicles are technology intensive and our staff is in sync with the latest breakthroughs and innovations in Range Rover technology. Being a local service, we offer the personal touch. At the same time, we provide customers with the best of international services and facilities.
Today's sophisticated vehicles need specialist care. In Gatley, Range Rover servicing offered by us provides customers with unmatched service quality and price. We offer free collection and delivery of your vehicle. This means you can get your vehicle picked up from your home or work-place and have it returned to the location of your choice. It also means you have minimum disruption in your routine provided by a trustworthy service. Keeping your vehicle in good condition ensures the safety of drivers, co-passengers and other road users. It also enhances the resale value.
You may need tyre balancing, wheel alignment, full servicing or repairs, and our Range Rover servicing in Gatley covers all these and much more. Our prices are much more economical than main dealers, but the quality of work is as good, if not better. If you need other services like MOT, service reminder alerts, news and updates on maintaining your vehicle, latest features, we can provide you with a feeder service at your convenience. Contact us for more information. We also offer a standard 12 month guarantee on all parts and labour. This goes a long way in assuring your peace of mind and the health of your vehicle.