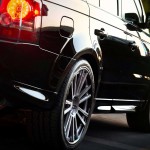 Freelander service in Cheadle is best done by Premier Garage Services. There is a lot of promise in the word 'premier' which is why it's part of our name. We offer many services and all meet the standards of best possible. You may think that's a lofty claim, and you would be right, but our confidence is based on more than hot air. We base it on the training and experience of our Land Rover technicians. We can repair any car you would care to bring to us but we specialise in Land Rovers. Specialising means we service more Land Rovers but that expertise does not exclude other makes and models of vehicles. On the contrary, it enhances overall skill and experience. Our industry is always changing and our technicians stay up to the moment with continuing education classes and seminars.
While our technicians are the best they can't perform without the advanced tools and equipment today's cars require. When you bring your Land Rover to us in Cheadle, Freelander service and every other model of Land Rover is specialised with more diagnostic equipment than your dealer has and ours is always current.  Service is carried out according to manufacturers' recommendations using authentic Land Rover parts. The cost for your Freelander service may vary from that of other Land Rover models because each is a different. However, your warranty remains valid. If your Freelander is older, we have a budget plan that saves you even more money. Either way, your service costs with us will be up to 50% less than that of your dealer.
We use your dealer for comparison because they are our nearest competitor for Freelander service in Cheadle. The cost savings you enjoy by bringing your Freelander to us widens the gap between us and the dealer so there is virtually no competition at all. We guarantee it and since we guarantee all parts and service you have nothing to lose. Call us with your vehicle registration number and mileage and we'll give you a quote over the phone. Bring your Freelander to us for the best experience in customer service, price and Land Rover certified techs. We can save you time if you're wondering what it would cost for a maintenance check and service.