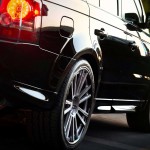 For professional service for DPF Land Rover Discovery Sport in Altrincham,  speak to Premier Garage Services. In order to meet the stringent emissions rules, all diesel vehicles have to be fitted with a diesel particulate filter. The DPF helps to minimise harmful particles that often come from a diesel exhaust and will burn off any unburnt particles when the engine is hot enough. However, the problem lies when the vehicle only does short distances and it doesn't get hot enough, then the DPF may get completely blocked, and if that is ever the case, you can bring your vehicle to Premier Garage Services.
When the DPF is blocked, the engine will not run properly. In Altrincham, a DPF Land Rover Discovery Sport can be cleared by our technicians. The DPF is generally cleared automatically through a process called regeneration, and when it is successful, a green indicator light will be displayed. The indicator will turn an amber colour when regeneration is required, and it will turn red when the filter is full. When it turns red, you will have no choice but to bring it to Premier Garage Services and our technicians will take care of it. We are an independent garage service and repair centre and we offer our clients a list of comprehensive services for their vehicles, at 50% cheaper than the main dealer's. All our servicing and repairing work is carried out in accordance with the manufacturer's guidelines. Our team is comprised of the best technicians who have been trained in the field and are qualified to work on your Land Rover.
With our years of experience, you can be assured that any work related to DPF Land Rover Discovery Sport in Altrincham will be carried out as honestly and efficiently as possible. For more details about how we can assist you, contact Premier Garage Services. We provide a 12 months warranty on all parts and labour, we use genuine parts and components, and we are also able to approve your service book with a stamp.