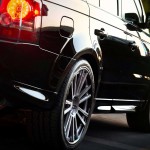 How is your DPF Range Rover Evoque in Stockport? The diesel particulate filter is an important installation in any diesel vehicle. It filters out harmful exhaust fumes emitted from diesel engines through a simple but important process. Soot particles are deposited on the filter and subjected to high temperatures. Consequently, the particles are burnt to ash and the filtration cycle can restart. Several factors contribute to DPF issues. Since optimal temperatures are mandatory for a fully functional system, short city journeys are not good. They don't generate enough heat to stimulate DPF regeneration and facilitate the filtration cycle. Faulty fuel injectors, a failed turbo system and a clogged EGR valve also compromise the integrity of the filtration system.
For car owners in Stockport, DPF Range Rover Evoque issues are a common problem. Most problems are subtle and often go unnoticed. However, a decrease in engine performance and fuel efficiency are early signs your DPF is faulty. Moreover, a slow response on your throttle and engine damage may arise from a faulty DPF. Premier Garage Services specialises in identifying and fixing DPF issues. We are Land Rover specialists with unmatched experience in automobile repairs. Our experience stretches to over 25 years and our team of technicians combines expertise from different areas of mechanics ranging from electrical wiring to diagnostics. In cases of DPF faults, we conduct a thorough assessment of your engine, the filter and exhaust to find and fix the fault. The Range Rover is equipped with sensors to detect a fault, but even with malfunctioning sensors, we are able to isolate and fix the problem.
Faulty DPF Range Rover Evoque in Stockport can land you on the wrong side of the law. DPF issues can attract legal fines of up to £1000. As per UK and EU regulations, a fully functional DPF should be present in all diesel vehicles. Aside from meeting legal requirements, DPF is good for your car engine. It improves fuel economy and allows you to get the most from your engine's performance.  Contact us today and get your DPF assessed. If repair or replacement is necessary, we will do a professional job at affordable rates.