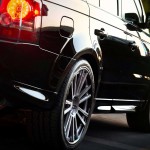 If you have problems with DPF Land Rover Discovery Sport in Alderley Edge, get in touch with the experts. Premier Garage Services is an independent garage with more than a quarter century's experience in this sector. We offer top-quality repairs, servicing and maintenance in all aspects for Land Rover vehicles. Our technicians are specially trained at Land Rover and have extensive experience in dealing with all models of this premium brand, including Evoque, Defender, Freelander and Discovery plus all the other Land Rover series. No matter how big or small the problem, we're glad to be of assistance. We are a local enterprise, but we take pride in offering our customers the best of information, services, technology and products from across international markets. What sets us apart from others is our commitment to excellence, affordable pricing and 100% focus on customer relationships.
You may find, in Alderley Edge, DPF Land Rover Discovery Sport is an issue that has been reported across several other models. The DPF (diesel particulate filter) has been installed in compliance with Euro 5 Emissions regulations 2009. It has made diesel vehicles much "cleaner" since it traps harmful diesel gases and cleans them through DPF regeneration. The particles collected by the filter are then burnt at high temperatures into ash. Following the regeneration, the filter resumes its work of collecting the hazardous materials. However, the DPF can and does fail due to several reasons. Many drivers are not aware of the malfunction and continue driving, running the risk of engine failure and potential fire or explosion hazards.
Symptoms of a blocked DPF Land Rover Discovery Sport in Alderley Edge include the EML (engine management light) coming on, loss of power, lower fuel-economy, difficulty or failure to start, bad smells, limp mode, and poor throttle response. The problems are usually caused because of city driving, where short journeys are typically undertaken. This means your DPF doesn't reach the optimum temperature to burn off accumulated particles. Faulty fuel-injection, use of wrong engine-oil, turbo failure and high-mileage vehicles that don't achieve the regeneration stage easily are some other reasons. Contact us today for assistance with DPF issues. Our technicians can give you the right advice and assistance.