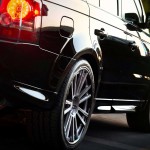 If your engine management light Land Rover Sport in Cheshire is flickering, or stays on, it is best to get to a garage as soon as possible. What it is doing is warning you that your car has a potential problem. When the light, usually orange or red, stays on, our experienced technicians can help find the root of the problem and repair it. We are an independent, family-run garage offering a range of professional automobile services. From servicing, maintenance, and repairs to diagnostic testing, cam belts and tyres, if your Land Rover Sport needs attention, we are the garage to visit.
When running errands in Cheshire, and the engine management light Land Rover Sport starts blinking, we can assist. This light is connected to your vehicle's engine control unit, and it is the first indication if there is a problem with your engine's electronic 'brain'. The engine's control unit helps control aspects such as the fuel and air mixture and the ignition timing to help your car's engine run smoothly. This light cannot be ignored. You could cause irreparable damage to your vehicle if you do not take your vehicle to the garage as quickly as possible. If you are unable to drive your Land Rover Sport to our garage, give us a rung and we will collect it from you. Once your vehicle is at our garage, our technicians will connect a laptop to your on-board diagnostics port. Here they can download codes from the ECU that are created when a fault occurs. The codes can pinpoint where the fault lies. With this knowledge our technicians can begin repairing the problem.
The engine management light Land Rover Sport in Cheshire can be reset once the problem with the vehicle has been identified and repaired. We believe that we offer more technical equipment than several franchise dealerships, as well as having access to the best quality parts for your vehicle. If your Land Rover Sport's engine management light is indicating a problem with your vehicle, contact Premier Garage Services as soon as possible. We are proud of our Land Rover trained technicians who have over 25 years' experience in the industry. You can rely on them to provide a professional, top quality service.