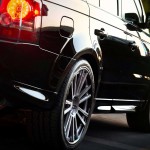 When you want top quality services for your DPR Range Rover in Bramhall, get in touch with the specialists. Premier Garage Services offers specialist services in all aspects of Land Rover servicing, maintenance and repairs. Our team of highly experienced Land Rover trained technicians can provide the right advice and assistance for any model of the Land Rover and Range Rover series. We ensure that all work is undertaken only once we get the go-ahead from our customers. This means that you get exactly what was given in the estimate. If there are extras or additional work to be done, we make sure that we keep you informed. We carry out work strictly in accordance with the manufacturer's recommendations. This means you don't have to worry about warranties. If the vehicle is more than four years old, we provide a special category of pricing plans.
As an independent and well-established Land Rover specialist in the region, we have built strong and enduring ties in the communities we serve. In Bramhall, DPR Range Rover servicing, repairs and maintenance facilities that we offer are in compliance with the latest environmental regulations. The DPR (diesel particulate activation reduction) system was first developed for medium duty commercial vehicles. Later it was modified for use in light, medium and heavy-duty diesel engines. It comprises a catalyst converter, fuel-dosing injector, NOx sensors and temperature/pressure sensors. This system is highly effective in reducing the effects of toxic emissions. It traps the particulate matter in diesel exhaust gas and also regenerates the filter when the particulates accumulate above a certain level.
The DPR Range Rover in Bramhall trained specialists in our garage work with the right tools and equipment for the maximum efficiency and accuracy. One of the most important aspects of handling sophisticated technology in the latest automobiles is training and experience. If you need assistance with your Range Rover, contact Premier Garage Services today. We also use the most modern, state of the art diagnostic tools to quickly identify and locate the problem, saving valuable time and effort. This ensures that issues are resolved more efficiently and quickly. These aspects set us apart from others in this business.