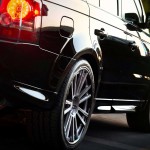 Engine management light Range Rover in Hazel Grove, when lit, demands attention. It's probably no big deal but you don't know that for sure until you find the cause. The quickest and most accurate way to do that is to bring your car to us at Premier Garage Services. If you don't have time to do that, no worries. We'll collect your car, check it out and call you with our findings. When we've dealt with the culprit lighting up your engine light, we'll deliver it back to you. That's one of our free services. We value you as a customer and we look for ways to let you know that. We are Range Rover Specialists which includes the whole Land Rover and Range Rover line-up of models.
We have been specialising in the service, maintenance and repair of Range Rovers for over 25 years. In Hazel Grove, engine management light Range Rover is undertaken by our experienced Range Rover certified mechanics. They have a wealth of knowledge with this brand. Your Land Rover is serviced without invalidating your warranty even though we are independent. We can stamp your service book and provide a 12-month warranty on all parts and labour. We stay ahead of most garages when it comes to the latest in diagnostic equipment. Our service schedules are the latest updates. Using authentic parts and working to manufacturer recommended standards, or higher, we provide the finest care for your Range Rover.
The cause for engine management light Range Rover in Hazel Grove is quickly diagnosed by our techs. The solution is undertaken to the customers' complete satisfaction with as little disruption in their routine as possible. Do you think your dealer can provide the same quality of service? Well, you might be right. However, we think our equipment is updated more frequently and our customer service is more personalised. We do offer another benefit we know your dealer can't match; lower prices. As we're independent, we can charge up to 50% less than your dealer. Contact Premier Garage Services and schedule your Range Rover in for a quick diagnosis of your engine warning light. Whatever the cause, we'll sort it out quickly and have you safely back on the road in short order.