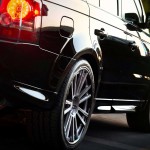 The engine management light Land Rover in Handforth serves a valuable purpose. No, it's not to annoy you. It's there to warn you that some component of your engine is not working as designed. It may be serious or it may be very minor. The best way to find out is bring your car to us. We specialise in Land Rover so we use diagnostic equipment that is designed to work with Land Rover vehicles. The first thing our technical equipment reveals is every component your car has. Then it will show us, through codes, which components are not functioning properly. This saves our technicians so much time and lessens the guesswork
With that information, our technicians, who specialise in Land Rover, can locate the malfunction and make the repair. This is the outcome in Handforth, the engine management light Land Rover is designed for. Our Land Rover specialists have the tools and expertise to resolve the issue to which your engine management is alerting you. Experience such as ours makes this easier because we are familiar with the specifics of Land Rover. Common causes for the engine management light to come on in a Land Rover is a vacuum leak, oxygen sensor, worn spark plugs, catalytic converter and more. You may have noticed issues such as sluggish performance or reduced fuel efficiency. To protect your engine, don't delay getting your Lange Rover into our garage.
If the engine management light Land Rover in Handforth comes on while driving, it's usually okay to continue to your destination. Our garage would be a good stopping point. However, if the engine light is blinking do not drive the car. If you continue driving, extensive damage to the engine or catalytic converter could result. For engine management light warnings, contact Premier Garage Services. You will receive top quality service from our Land Rover specialists that will match or exceed your dealer's garage. And, we can save you up to 50% of the cost compared to dealer charges. We know you're busy so we make service, maintenance and repairs to your Land Rover convenient for you. Take advantage of our free collection and delivery service.