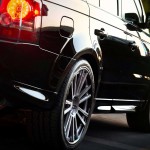 Premier Garage Services specialises in DPF Land Rover in Cheadle Hulme. Actually, we specialise in all maintenance, service and repair of Land Rover. With over 25 years' experience, we know our Land Rovers. Ours is an independent garage but the standards we maintain when servicing your car are Land Rovers. We faithfully abide by the manufacturers recommended standards when maintaining your car along with friendly and courteous customer service. Your warranty is safe with us. If your diesel particulate filter (DPF) lights up your dash warning light, we know just what to do to get you back on the road quickly with a fully functional DPF. This important component protects the environment from toxic emissions from your car and provides you with the engine power and fuel efficiency you expect.
Your DPF is designed to be self-cleaning but that assumes that all car owners have the same driving habits and style. In Cheadle Hulme, DPF Land Rover works optimally when there is  frequent high speed driving such as on our many motorways. This allows the filter to burn the accumulated toxic soot and eject it through emissions as a harmful vapour. If your filter isn't performing that regeneration process every 300 miles or so, then it may be clogged. Causes can be not allowing up to ten minutes for regeneration to complete or no opportunity to regenerate because of primarily low speed driving. If most of your driving is in town, take your Land Rover out for a high speed drive occasionally.
When you have a malfunctioning DPF Land Rover in Cheadle Hulme, our technicians at Premier Garage Services will resolve the issue. We will first try to manually start the regeneration process. If that doesn't work we will clean the filter. Usually, once the filter has been cleaned, the DPF will resume regenerating on it's own. Just remember to allow for occasional high speed driving. If you are busy, we can collect your car and deliver it back to you. Because we're independent, we can save you up to 50% over dealer costs for your repairs. Contact Premier Garage Services and schedule your car in for servicing. If it's four years old or more, we have a budget pricing scheme you might want to take advantage of.